D
Es war eine neue Challenge in meiner virtuellen Taschengruppe. Diesmal hieß das Thema "Musikimprovisation" und schloß alles rund um die Musik ein: Noten, Musikinstrumenten, Lieblingsmelodien, Pop- und Rockstars... alles. Nach einigen (mehreren) Tagen Recherchen im Internet habe ich es endlich gefunden: The Yellow Submarine! Es war ein altes Poster:
E
There was a new challenge in our internet bag group. Our theme was "Music Improvisation" and it should be literally all about music - we´ve got very nice and precise instructions to use our imagination and be creative. I ´ve been searching in the internet several hours or days till I´ve found this vintage poster: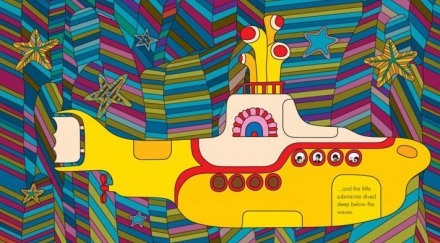 D
Ich kaufe keine Patchworkstoffe (Recycling ist mir viel lieber), aber vor einigen Jahren habe ich Samples von den gestreiften Michael James-Stoffen geschenkt bekommen. Die Streifen waren breit und die Stoffstücke relativ klein, deswegen konnte ich damit nichts anfangen - bis ich dieses Poster fand. Die wären doch perfekt als Hintergrundkorallen. Ich habe nur Unis fürs Submarine gekauft und los ging es. Mithilfe von Vliesofix habe ich alle gestreiften Teile aufeinander aufgebügelt und dann mit einem breitem dichtem Zickzackstich die Konturen nachbestickt. Das Submarine habe ich extra auf einem Stück Backpapier zusammengebastelt und auf den fertigen Meereshintergrund angebracht. Ein paar Sterne hinzugefügt. Danach brauchte ich nur die Teile zu quilten. zusammenzunähen,. Magnetverschlusse und den Riemen anzubringen und fertig ist The Yellow Submarine!
E This was a very good occasion to use at last my samples of striped fabrics of Michael James. The stripes were 1" bright and the fabric pieces not big, so I couldn't do anything with them. But now I thought they were perfect for the deep underwater background. I´ve fused striped forms on a plain white background and enclosed the edges with a satin stitch. I´ve made the submarine on a sheet of backing parchment and added it to the underwater background. Then I only had the bag to sew, it was not so difficult compared to the submarine itself.
D
Bis zur letzten Minute wusste ich nicht genau, wo sollen die Magnetverschlusse hin. Deswegen habe ich sie nicht direkt an die Tasche, sondern an kleine Stücke mit Stoff überzogene Schabrakeneinlage angebracht. Dann lassen sie sich einfach wie Knöpfe annähen:
E
I didn´t want to install magnetic snaps until the bag was completely done, since I didn´t know where to. So I´ve attached each of them to a small piece of a very sturdy interfacing covered with fabric and then simply sewn them onto place like buttons.
D
Als Schiffschraube wollte ich ursprünglich eine Echte fürs Modellbau kaufen. Nachdem ich mich die Preise angeschaut hatte, habe ich mir anders überlegt: